Homeless busker James Bowen was helped in his struggle against addiction by the companionship of a stray cat. Now his books charting their friendship have propelled him into an elite publishing club.
Just a few years ago, Bowen was down and out, selling copies of The Big Issue, a magazine sold by homeless people, on rainy London streets, when his fortune changed forever.
In 2007, Bowen, a recovering drug addict, found an injured Bob curled up on a step when he himself was living in sheltered accommodation. "He gave me this look, almost saying, 'help', but also 'sort it out'," said the author today. The cat had an abscess on his leg, and Bowen cobbled together money for antibiotics and nursed the little kitty back to health.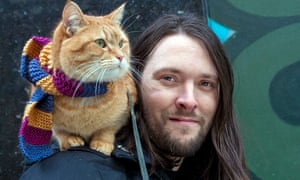 To cut a long story short, Bob started to accompany James, travelling on his shoulder on the busy London streets, on buses and the Underground. While James was playing his guitar and singing, Bob would calmly sit on his bag, or in the guitar case, with remarkable poise and equanimity. The effect on the day's takings was dramatic; as James put it, the cat made him cease to be 'invisible', as people stopped to chat, stroke Bob and take photographs. As time went on, Bob gained a proper harness and lead for his safety, he was neutered and microchipped — and became a very important part of James' life. 'He's what I wake up for every day now,' says James.
Little over two years later James' life has been transformed. Back then he could have had no idea about the global celebrities he and Bob would become. In 2010, Bowen published his first book, "A Street Cat Named Bob — and How He Saved My Life." It quickly became a best-seller.
Bob has trained himself to use a loo instead of a litter-box, gives high fives, fought off a mugger single-pawedly and travels on buses and Tubes so regularly he's been given his own Oyster card.
As James tells it: "Our story seemed to connect with people who were facing difficult times in their lives. Hundreds of them wrote to me or contacted us via social media. I was immensely proud."
"Lots of artistic people have cats," said Bowen. "The thing about artists and cats is that cats are the owners of their own souls. They don't have a master, and artists feel that way too sometimes. A person can find a cat their muse. Bob is my muse."
The cat, however, "isn't a deity – although he sometimes gets treated as one," said Bowen. "He gets the most fan mail of any author in the Hachette company, [but] he's still naughty. I've had to put child locks on the fridge."
Bowen, now living in a rented flat, is currently working on a new series of books for children – apparently Bob himself chose the artwork by placing his paw on his approved illustrator – as well as a children's adaptation of The World According to Bob.

Sources and Images: NY Post | Mirror | Big Issue | The Guardian | Purr n Fur