My Edible Classroom Gives Deprived New York Kids A Reason To Attend School
|
Stephen Ritz is a teacher in New York's deprived South Bronx district where he began a pioneering project to farm plants and vegetables indoors at Discovery High School. The school's so-called "edible walls" gave birth to the Green Bronx Machine, a project that helps other schools in the US start their own agricultural programmes to teach children healthy eating, environmental awareness and life skills. As well as continuing his educational work in New York, Stephen travels the world promoting the value of growing fresh produce, both in schools and the wider community.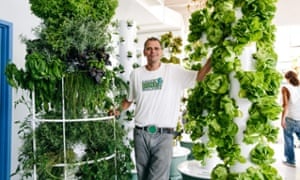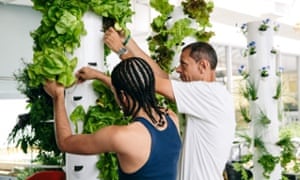 Working in a community that struggles with food access, Ritz's students chose to take the problem into their own hands, building a single vertical garden plot known as a "green wall." Their Bronx classroom features the first indoor edible wall in NYC Department of Education and routinely generates enough produce to feed healthy meals to 450 students. Currently, with the help of their extended community, Ritz's students have grown over 25,000 pounds of vegetables in the Bronx while generating extraordinary academic performance and earning money.
Ritz developed curriculum around the green walls and uses the process to teach science and technology. Through his remarkable guidance, his program has increased attendance from 40% to 93% and helped to fund and create 2,200 youth jobs.
It was so novel, so different, that we were determined to succeed. Failure was not an option for me. I funded all this from my own pocket. It is easier to raise healthy children than fix broken adults and I believe every child deserves a safe, healthy, nurturing environment to live in. I am determined to put a plant in every classroom in New York City and I believe that is within my means. When we teach children about nature, they learn to nurture. And when they learn to nurture, we as a society embrace our better nature. I like to call it our green graffiti.
When kids learn about where their food comes from, it changes their world view.Most kids in the South Bronx have horrible diets. We are inundated with cheap food, which is only expensive in terms of the health costs. We are looking at the first generation of children who will not outlive their parents simply because of what they eat. The ability to bring healthy, fresh food into schools and teach children that input equals output is absolutely spectacular. While I started this programme with older kids, now I love working with little ones because I can build on good habits instead of trying to fix bad ones.
My kids have gone from being consumers to being producers. We have been selling the plants, working with major stores to increase awareness and access to cooking, nutrition and health for kids. This is not just growing plants, though, this has applications for a range of curriculum subjects including maths, science and literacy. Farming teaches patience and fortitude. A crop well tended will yield a good harvest. We are dealing with kids who are being fed the next video game, the next application – they are used to instant gratification – so it's about learning the patience they need to grow up.
My farmers are stewards of their own future. A lot of these kids' families are on minimum wages, so we are giving them the skills to use in well paid culinary careers. We are creating the next generation of customer service specialists and gourmet chefs. It's not about us and them, though – this is a collective, collaborative and inclusive project. People in wealth and in poverty are realising that together we can all prosper.
I am a great believer in teaching through project-based learning. I can't expect everyone to be a Herculean farmer in a classroom, but running a similar growing project in your school is safe, lightweight, and no kids are getting dirty. That's important. We are taking the backbreaking effort out of farming by using 90% less space and 90% less water. That's a paradigm the world needs to embrace.
You can find out more about the Green Bronx Machine project on the student-run Facebook page.
Sources:
http://greenbronxmachine.org/
http://www.theguardian.com/teacher-network/teacher-blog/2014/aug/20/classroom-attend-school-fresh-food-healthy-eating-students?CMP=share_btn_fb
http://www.greeneducator.org/Chevrolet-GREEN-Educator-Award-Winners-2012/profile.php?PID=9
www.youtube.com/watch?v=lcSL2yN39JM
Comments: